Academically Excellent
Accreditation
St. John Francis Regis School is proudly accredited by the North Central Association of AdvancEd and the Missouri Non-Public Schools Accreditation Association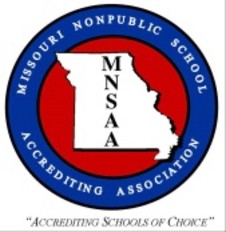 ---
Curriculum
When we plan curriculum at St. John Francis Regis School, we begin with the grade-level expectations set forth by the state of Missouri and the Diocese of Kansas City-St. Joseph. State standards are available for viewing clicking here. We also use the common core standards to guide our learning. You can find out more about these by clicking here.
The students of St. Regis have a reputation for their academic excellence. In order to continue this tradition, we ask parents to take an interest in their children's education. Parents with students in grades 3rd - 8th may use the Parent Portal on our webpage to check their student's grades and assignments. Parents of students in grades Kindergarten - 2nd will have report cards and progress reports mailed to their homes. However, parents may request a progress report at any time for their child. Please make an appointment with a teacher for a progress report.
---
Specials
Physical Education, Spanish, Technology, Music, and Art are offered to our students each day to help them reach their full potential. 
---
Technology
St. Regis Catholic School teachers use technology on a daily basis in their classrooms. In addition to the Smartboards in many of our classrooms, we also offer technology classes. We take great care to teach each child to use technology in a responsible way.